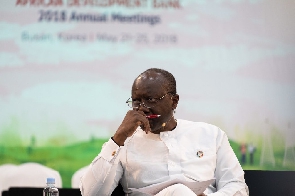 The Ministry of Finance says the mobilization and disbursement of funds for the COVID-19 responses were in line with the Public Financial Management Act.
The Ghana audit service report on the government's covid-19 expenditure for the period going from March 2020 to June 2022 recorded various infractions.

In all, GH¢21,844,189,185.24 (over a billion US $) was mobilised to mitigate the impact of COVID-19 pandemic in Ghana.

The 119-page long report highlighted irregularities in the management of some tranches of the funds.

Among them, is the payment of over 10 million cedis in insurance premiums to cover 10,000 frontline health workers and allied health professionals without a binding contract detailing among others who the beneficiaries are.

But the Finance ministry in response to the A-G's report clarified that: "… as reported on page 11, paragraph 31 of the report, the 53.8% and 46.2% spent on direct Covid-19 interventions and for general budget support respectively were consistent with the mandate approved by Parliament.
Nonetheless, the Ministry indicated it welcomes the Auditor General's report, and assured the public that steps are being taken to address the issues contained in the report.

"Meetings are being organised to engage with the implementing Agencies to evaluate actions taken to implement the audit recommendations in the audit report.

"Preparation of an Emergency Expenditure Management Guideline. This guideline will provide government with administrative protocols in times of emergency such as the Covid-19 pandemic to ensure compliance with relevant PFM regulations whiles providing timely responses."

The statement further assured that the Ministry will apply its best efforts to enforce and enhance expenditure management and accountability to ensure proper utilization of tax revenue.