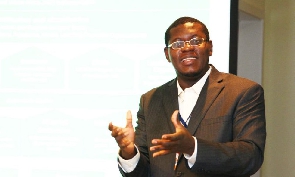 Vice President of the think-tank Imani Centre for Policy and Education, Bright Simons has stated that the courts must not stand in the way of Parliament's proceedings in its quest to carry out investigations levelled against Okudzeto Ablakwa, Member of Parliament for North Tongu.
Bright Simon's assertion was in direct reaction to the news that Rev Kusi Boateng, Secretary to the Board of Trustees of the National Cathedral Secretariat, had secured an interim injunction against the Member of Parliament (MP), restraining him from making any further revelations about him.

"A Ghanaian court has granted a 10-day "interim order" against a member of Parliament investigating a matter of conflict of interest against a powerful clergyman who served as secretary to the "National Cathedral". Courts should not impede Parliament's public accountability work!" Bright Simons said in a tweet on social media.

Okudzeto Ablakwa had been on a relentless campaign against the preacher, detailing scandalous information about him and accusing him of conflict of interest, fraud, double identity, self-dealing and corruption. He made documents available to back his claims. But on February 1, 2023, Rev Kusi Boateng, got the High court to restrain the MP from any further disclosures for the next ten days.

Bright Simons added that the court should not become an impediment to the work of Parliament.
"Ghanaians, esp the middle classes, frequently complain that Parliament is weak. Parliament is made up of human beings. Only bold & courageous MPs will make Parliament strong. The courts should thus not emasculate MPs when they are on the trail of matters of real public interest!" He complained.


A Ghanaian court has granted a 10-day "interim order" against a member of Parliament investigating a matter of conflict of interest against a powerful clergy man who served as secretary to the "National Cathedral". Courts should not impede Parliament's public accountability work!

— Bright Simons (@BBSimons) February 3, 2023
Ghanaians, esp the middle classes, frequently complain that Parliament is weak. Parliament is made up of human beings. Only bold & courageous MPs will make Parliament strong. The courts should thus not emasculate MPs when they are on the trail of matters of real public interest!

— Bright Simons (@BBSimons) February 3, 2023
By the way, some folks are misreading the order. It doesn't only block "private documents" disclosure. That's just one protected category. It also says correspondences & communications can't be disclosed. Occasionally, public interest advocacy requires such disclosure.

— Bright Simons (@BBSimons) February 4, 2023