Sun, 13 Aug 2017 Source: Kenneth Kwawu
Accra Brewery Ltd. (ABL) has used its commemoration of International Beer Day to share its commitment to ensuring smart drinking.
Smart drinking looks beyond creating awareness on the harmful effects of drinking and employs such approaches as changing behaviour instead.

The company leveraged the event, dubbed "Brewers' Brunch", to urge stakeholders in the beverage industry to collaborate to reduce the harmful effects of excessive alcohol consumption, and for beer lovers to drink responsibly and lead the charge for a healthy drinking life-style.

ABL also used the opportunity to conduct members of the Beers Rotarians Enjoy Worldwide (BREW) Fellowship through its beer-brewing process, a tour of the company's packaging plant together with the new plant currently under construction, and a beer tasting session.

ABL is committed to Smart Drinking

ABL's Legal & Corporate Affairs Director, Ms. Adjoba Kyiamah, said the company's focus has evolved from raising awareness on responsible drinking to Smart Drinking, which takes a more collaborative approach with public and private partners to promote alcohol health literacy, reduce underage drinking, achieve lower alcohol beer products, and influence individual behaviours to reduce the harmful effects of immoderate alcohol use.
She noted that as a subsidiary of ABInBev, the world's largest brewer, the company was morally and ethically enjoined to ensure consumers' experiences with beer is a positive one.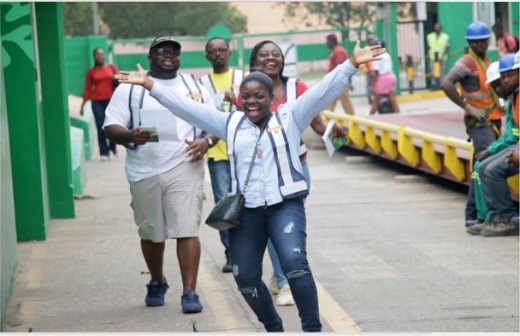 Ms. Kyiamah said the company considered it a delight to participate in the IBD celebrations as it presents them an opportunity to renew ''our energies and commitment to creating a healthier world''.

She further noted that ''Indeed this call for smart, responsible and healthy drinking habits among Ghanaians fits strategically into our Global Smart Drinking Goals which aims largely at combatting, by 2025, harmful drinking habits, including underage drinking, drunk driving, and binge drinking.''

She emphasised that, to this end, ABL has adopted and is committed to spearheading best practices, including changing behaviour, beyond creating awareness on the harmful effects of excessive drinking.
Mr. Moses Aryee, President and founder of the BREW Fellowship, commended ABL's push for a collaborative effort towards attaining positive drinking outcomes.

He noted that since its establishment in 2014, 'the Fellowship has sought to forge relationships with breweries so together, we can be a force for good.

For instance, our work with concerned bodies on providing access to clean water for slum dwellers possesses the potential to improve quality of life in multiple ways''.

International Beer Day (IBD)

IBD is celebrated annually in pubs, breweries, and backyards in homes all over the world. It affords beer lovers an opportunity to raise a toast to breweries and bartenders whilst rejoicing in the greatness of beer!
Source: Kenneth Kwawu