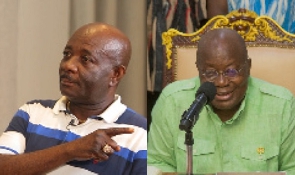 Leader and founder of the Union Government (UG) political party, Akwesi Addai Odike has strongly asserted that President Akufo-Addo should be characterized as a dictator as he labeled him the "worse leader" in Ghana's history.
He contends that the president lacks the essential qualities that define a capable leader.

"He avoids accountability and adversely impacts the lives of both ordinary citizens and members of his own political party.

"I am reaching out to anyone who can proudly declare that Nana Addo is their mentor because he set no example as a leader with good charisma," he told Sefah Danquah in an exclusive interview on Happy98.9 FM's "Epa Hoa Daben" socio-political talk show.
He hinted to a poignant sentiment revealing that on certain occasions when presented with the task of signing a form, a sense of sadness envelops him. This emotional response stems from his belief that such agreements may not ultimately contribute to the betterment of the nation.

He believes that, political power is the allocation of the people, resources and the power and so, Ghanaians like himself have the power to question these leaders.

He however urged Ghanaians to wake up from their slumber and make a rightful choice now.