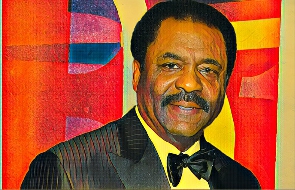 David Steward, one of America's wealthiest Black individuals, has experienced a notable increase in his net worth due to the recent surge in the valuation of tech companies. This development has further cemented his position as the second-richest Black person in America.
According to data tracked by the Bloomberg Billionaires Index, which monitors and compares the fortunes of the world's 500 wealthiest people, Steward's net worth has risen by $664 million this year, reaching $5.68 billion from $5.01 billion at the start of the year.

The $664-million surge in his net worth can be attributed to the increased value of his stake in World Wide Technology, a privately-held company that provides information technology services.

As of the time of this report, Steward's net worth was primarily derived from his 59-percent stake in World Wide Technology, a company that provides information technology services. This stake is currently valued at $5.66 billion, accounting for the majority of his wealth.

Additionally, Steward holds a $14-million stake in Centene Corporation, a healthcare services provider operating across the United States.
To expand their presence in the film and television industry, Steward's family is seeking funding to support the production of inclusive content through their Oscar-winning studio, Lion Forge Animation. David Steward II, Steward's son, is spearheading this effort.

Lion Forge Animation aims to secure up to $50 million in funding from wealthy family investment companies and institutional firms. The animation studio intends to use the funds to expand its media library, increase staffing levels, and pursue strategic acquisitions.

The family's efforts to create racially diverse film and television content are commendable and necessary in an industry that has long-faced criticism for its lack of diversity. This move is expected to solidify their commitment to promoting inclusivity and representation in media.