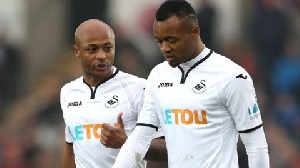 Swansea City forward Andre Ayew is available for the Premier League clash with Manchester United on Saturday after being cup-tied against Tottenham Hotspurs before the international break.
The deputy Ghana captain has a historic record against The Reds and his availability is surely a boost for the Swans.

Ayew scored against Manchester United in his maiden Premier League season for the Swans to reach a monumental 12-goal feat.

He left for West Ham United and has returned to Swansea where he is performing well.
The Ghana international will however not have his younger brother Jordan Ayew playing alongside with his as the latter is serving a three match ban after being red-carded in their game against Huddersfield Town.

Swansea City have been struggling in the Premier League this season and it seems only a miracle can save them from joining the relegation train.