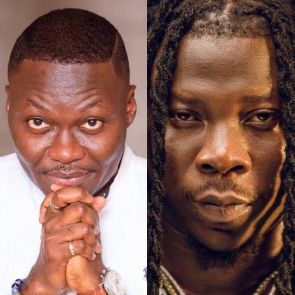 Entertainment journalist and pundit, Arnold Asamoah-Baidoo, has criticized Stonebwoy, an award-winning Ghanaian musician, for a live video he made to address the recent raid by the military in Ashaiman.
During an episode of UTV's United Showbiz, Arnold lambasted Stonebwoy for the video, which he believed was unnecessary and inappropriate.

Specifically, Arnold took issue with Stonebwoy's insinuations that the murdered soldier was killed because he was chasing after someone else's wife.

According to the pundit, such claims were unethical, given that the police were still investigating the incident.

"The video he made about someone taking another person's wife was needless and unnecessary. Especially when the police were doing their investigations. They didn't bring out the release to say this and that reason was why the soldier lost his life.

"With his position, I thought if an official communiqué came out to say this was the reason why the guy lost his life, then he could come out again and offer some commentary. Trying to insinuate that he went to take someone's girl and they killed him, I think it was so unethical, and I will not mince words," he expressed.
After disagreeing with the musician making a hasty comment, he went on to praise Stonebwoy for a tweet he had made earlier in response to the same incident.

In the tweet, Stonebwoy condemned the killing and brutality and expressed hope that those responsible would be held accountable.

Arnold believed that this tweet was the appropriate response from Stonebwoy, given his position and the gravity of the situation.

"You can tell he covered everything. He condemned the killing and the brutality, and lastly, he said he was hoping that all who were found culpable will face the full rigorous of the law. The tweet was perfect.

"Every angle was covered, you know, for someone who is respected and whom people regard, and from Ashaiman, that tweet was the most perfect to have come from his quarters. For me, I thought he should have left it there simply," he applauded.
Watch the latest episode of Talkertainment below:
Watch the latest episode of E-Forum
Watch the latest episode of Nkommo Wo Ho below:



ADA/BB