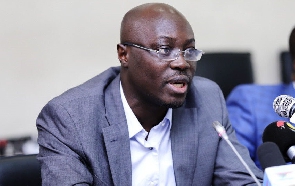 A Professor of Political Science at the University of Ghana, Legon, Ransford Gyampo has said he is confident the new Minority Leader Dr Cassiel Ato Forson will be up to the task in Parliament ahead of the 2024 elections.
He said the shake-up in the leadership of the NDC in the law-making chamber was not a surprise to him because the battle for the "soul of Ghana" in the lead-up to the 2024 general election would be fought on the grounds of the economy and finance.

"And so, I believe that the battle needed somebody who could pontificate on matters of the economy on the floor of Parliament as a way of giving hope to Ghanaians and as a way of letting the international community know the stance of the Minority in Parliament on matters germane to the economy of Ghana," he said in an interview with Daily Graphic.

Prof. Gyampo added that the 2024 election was not going to be an easy battle as things were very hard and not going on well today although things are likely to turn around.

"Therefore, a party that is seeking to annex power in the next elections cannot be complacent," he said.

Prof. Gyampo also stated that the reshuffle pointed to the fact that the NDC party was battle-ready since the economy and finance issues would be dominating much of the issues that would shape voter behaviour in the next elections.
He observed that Haruna Iddrisu is not an economist but a sociologist and lawyer from the University of Ghana hence the NDC needed "somebody who has grasp over the economy to be able to pontificate matters of the economy."

"When you bring Cassiel Ato Forson, you free Isaac Adongo so that he can also be a Ranking Member on the Finance Committee and he can look at matters of finance, while Ato Forson looks at the economy," Prof. Gyampo posited.

Describing Dr Forson as not being a novice in Parliament, Prof. Gyampo indicated that the MP was an experienced person as he served as a Deputy Minister of Finance and Economic Planning of the country.

"I believe that he has what it takes to properly position the NDC party in bracing themselves to use matters of the economy to determine how ideas are contested in the coming electioneering campaign," Prof. Gyampo said.

Changes
The NDC replaced Minority Leader, Haruna Iddrisu, with the Ranking Member on the Finance Committee, Dr Cassiel Ato Forson, who is also the Member of Parliament (MP) for Ajumako-Enyan-Esiam.

The letter dated January 23, 2023, which was signed by the General Secretary of the NDC, Fifi Fiavi Kwetey, and addressed to the Speaker of Parliament, Alban Sumana Kingsford Bagbin, indicated that the MP for Ellembele, Emmanuel Armah Kofi Buah, is now the Deputy Minority Leader, replacing the current Deputy Minority Leader, Dr James Klutse Avedzi.

The MP for Adaklu, Kwame Governs Agbodza, was named as the Minority Whip, replacing Asawase MP Mohammed-Mubarak Muntaka.

However, the party's leadership retained the positions of the incumbent First Deputy Minority Whip and MP for Banda, Ahmed Ibrahim, and the Second Deputy Whip and MP for Ada, Comfort Doyoe Cudjoe-Ghansah.

The letter stated that the "new leadership would be charged to recommend consequential changes in the ranking membership to the headquarters of the party for approval."