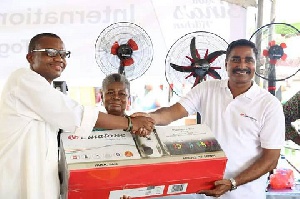 Electronics giants, Binatone and Aunt Bina's kitchen on Friday observed the International Chef Day with a cooking competition at Rawlings Park in Accra
International Chef Day is a day set aside to celebrate chefs across the world and Binatone which deals in the sale of home appliances such as electric and gas cookers, refrigerators and freezers and all types of fans marked the day with a keenly contested cooking competition at the Rawlings Park in Accra

Over twenty cooks lined up to exhibit their cooking prowess after which a three-member panel passed their verdict on the cooks that impressed them most with their skills.

The winners were presented Binatone items such as rice cookers, water heaters, blenders and Binatone's latest multi-purpose gadget Music Fan. The other contestants were also given Binatone products for taking part in the competition.

Venu Babu, the Managing Director of Binatone made known his happiness with the program and commended the contestants for making the program a success.

"We all know that today is International Chef Day celebrated over all the world. So we decided to partner Aunt Bina's kitchen to stage this event. We invited all the contestants to prepare delicious meals to mark this day and I'm glad the program went well. The contestants did incredibly well and I want to commend them for a good job done. We rewarded the six winners with different products from our outfit including our latest product called Music Fan. It's been 23 years since we arrived in Ghana and we are grateful to Ghanaians for their continued patronage of our products".
Binatone Music Fan

The music fan is the latest Binatone product on the market

The affordable and durable gadget which deserves a place in every household boasts of an in-built music player and high-tech fan which provides cooling air.

The music fan which doesn't cost an arm and leg and comes with a 2-year warranty can be purchased from all Binatone shops nationwide