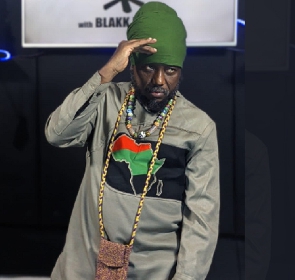 Blakk Rasta and broadcaster Nana Aba Anamoah have been engaged in a back-and-forth on Twitter over the former's comment on Sarkodie's feature with Jamaican reggae legend, Bob Marley.
Blakk on his radio show asserted that the late Bob Marley will be greatly disappointed over the remake of one of his classic love songs, 'Stir It Up' which features Sarkodie.

Describing Sarkodie's rap as one-way, he said: "What Sarkodie did was nothing but a desecration of the legacy of Bob Marley...It is like a king has been buried and you go and dig him up, and steal the gold and diamonds that he's been buried with."

Nana Aba Anamoah was quick to point out Blakk Rasta for making bad songs, adding that he was quick to discredit Sarkodie and even try to get the attention of Bob Marley's estate and family on all the reasons why Sark is the worst candidate for the remake of "Stir It Up."

In her recent tweet, she shared a clip of Blakk's song where he sang in Chinese and asked him to explain the lyrics to Ghanaians.

"Bro, on the Marley -Sark feature, I've said what I have to say to you. Marley's children & his estate managers are doing what they deem fit for his legacy. Keep catching feelings," she wrote.

Blakk Rasta in a quick clap back, wrote: "Sis, it will be awesome to have you on my show on @3fm927. I will invite @stonebwoy along to discuss Putuu as well. Maybe the @bobmarley family will help you understand the hook in Bob's Buffalo Soldier, which goes like this: Woo yo yo Woo wo yoyo.. Full song"
Check out the post below:


Sis, it will be awesome to have you on my show on @3fm927. I will invite @stonebwoy along to discuss Putuu as well. Maybe the @bobmarley family will help you understand the hook in Bob's Buffalo Soldier which goes like Woo yo yo Woo wo yoyo..

Full song???? https://t.co/P5dW6pqO81 https://t.co/qJ3alezUJe

— BLAKK RASTA (@Blakkrasta) February 6, 2023
Sis, @thenanaaba what were the scores on this day? I am writing an article on the game. Live with it! pic.twitter.com/XvPYrCsrNy

— BLAKK RASTA (@Blakkrasta) February 7, 2023
OPD/BOG