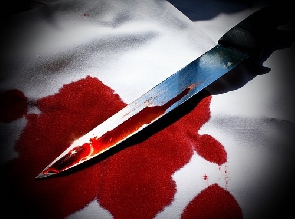 A 37-year-old man named Kobi has been arrested at Gomoa Buduburam in the Gomoa East District of the Central Region for allegedly stabbing his girlfriend multiple times, inflicting severe injuries, in what appears to be a crime born out of suspicions of infidelity.
Details of the incident were reported by Oheneba Adama, during a broadcast on Rainbow Radio Nyankoton Mu Nsem on September 22, 2023.

According to Adama, 37-year-old footballer is currently in police grips and the law enforcement authorities have initiated an investigation into the matter.

"A man aged 37 years, he is called Kobi has stabbed his own girlfriend, he stabbed her multiple times and the lady's condition is critical so she has been taken to Cape Coast for medical attention

"The issue is, Kobi is a footballer who is dreaming of playing for Black Stars, and he explained that people are having affairs with her girlfriend, and anytime the lady in question goes out, she goes and has an affair with someone else, and people have been telling him that others are using his girlfriend.

"So, he got angry three days today and stabbed the girl multiple times. He stabbed her waist, chest, cut her fingers, and also cut off her nipple.

"So, the doctors are saying that the lady's situation is very critical now and that if care is not taken, she could lose her life. But as I speak Gomoa Buduburam police have arrested Kobi and is currently assisting in investigations," he added.


AM/SARA

Click here to start the nomination process for the 2023 GhanaWeb Excellence Awards

Ghana's leading digital news platform, GhanaWeb, in conjunction with the Korle-Bu Teaching Hospital, is embarking on an aggressive campaign which is geared towards ensuring that parliament passes comprehensive legislation to guide organ harvesting, organ donation, and organ transplantation in the country.

You can also watch this episode of People & Places on GhanaWeb TV: