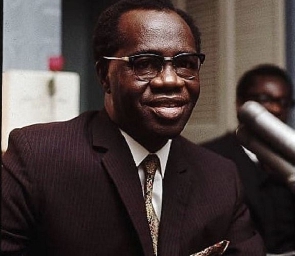 Lawyer Anokye Frimpong, a historian has given a no holds barred verdict on Ghana's late Prime Minister, Kofi Abrefa Busia; stressing how he dominated two fields, excelling in one and failing in the other.
The historian detailed how Busia set out from Wenchi Methodist as a boy through to Mfanstipim and on to the Universities of London and Oxford as a brilliant student of Anthropology.

Lawyer Anokye also traced Busia's political journey which started actively in 1954 when he quit his University of Ghana lecturer job to become the Member of Parliament for Wenchi.

MP Busia became leader of National Liberation Movement (NLM) the main opposition party to the government of Osagyefo Dr. Kwame Nkrumah before fleeing Ghana in 1959 for fear of arrest under the Preventive Detention Act at the time.

Lawyer Frimpong noted that Busia was "a bitter enemy to Osagyefo Dr. Kwame Nkrumah," even though the two shared a common ancestry that saw Nkrumah gravitate towards the West and eventually become an Nzema.

Busia fled to UK, back to Oxford to lecture and only returned in 1966, only a month after Nkrumah's overthrow to take a top post in the then National Liberation Council (NLC).
He rose to the position of Prime Minister and leader of government in the second republic but in 1972, Busia was overthrown by National Redemption Council led by Col Kutu Acheampong, a soldier who was indebted to Nkrumah for a riveting gesture during his early days as a soldier.

"Busia will go down in history as a very brilliant scholar who failed miserably in terms of politics," the historian stressed after detailing reverse economic policies and international missteps that triggered the coup that ousted him.

2023 will mark the 110th anniversary of his birth, the 45th anniversary of his death, and the 54th anniversary of the famous victory of the Progress Party he led in the 1969 general elections.

Watch the lawyer's analysis of the man Kofi Abrefa Busia:


"Busia will go down in history as a very BRILLIANT SCHOLAR who FAILED MISERABLY in terms of politics" - Lawyer Anokye Frimpong, Historian.

Today's history lesson is ready, enjoy. pic.twitter.com/dNBmrAHXRQ

— Kafui Dey (@KafuiDey) May 23, 2023


You can also watch the latest episode of People & Places:





Meanwhile, watch the latest episode of SayItLoud on GhanaWeb TV below:


SARA