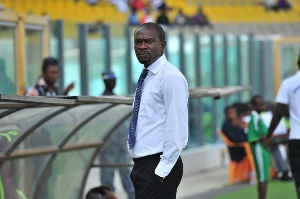 Newly signed head coach, Charles Kwablan Akonnor, has promised to work hard at Kotoko and is seeking total support as he sets on a path to improve the team with his brand of football called 'Agroball'.
The former Black Stars and Wolfsburg captain signed a three-year contract on Monday and told asantekotokosc.com afterward his aim is to get the team to entertain the fans while being efficient up front.

"My philosophy is for us to put the ball on the ground, play and make sure that even though we are entertaining the crowd, we are also efficient up front; to be creative and, of course, we would do this with the fans. We want them to be part of us. If the going gets tough, we want them to shout."

"I can assure you that I will work hard, and most times hard work pays," he continued. "We would do that with the belief that we want to get somewhere. What is important for me is my team. I want a team I can trust, is reliable and can give results even when things are going bad."

Akonnor admitted to Kotoko being result oriented but stressed he understood the challenges that come with it.
He treated persons associated with the club to understand that his team would work on a gradual process, adding that 'we must know that we are developing, we have a target and work towards it and that we have to be patient.'

Akonnor disclosed that he would involve everybody in his scheme of work, and said Kotoko can reclaim their past glory if the fans can support him the same as they support the club.

"It is not about me, but about Kotoko. I plead with everybody to support the team and let's do this. I think the days when we won the Champions League can come back if we all mobilise behind the team and get the right things to be done."