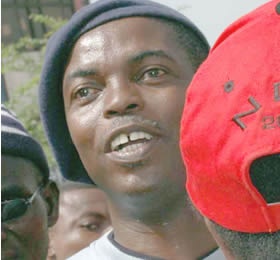 Fri, 8 Sep 2006 Source: GNA
Accra, Sept. 7, GNA - The Convention People's Party (CPP) does not owe anybody an apology for the use of the Prevention Detention Act (PDA) in detaining its political opponents, Mr Kwesi Pratt Jnr, National Publicity Chairman of the Party, said on Thursday.

He said: "What would any responsible government have done, when you have a reckless opposition at the time who were not ready to play by the rules."


Mr Pratt was speaking at a public forum organized by the Greater Accra Regional Branch of the CPP in reaction to certain anti-Nkrumah provocations coming from the "Mate Me Ho" quarters.


The forum, which was the first in a series to be held every month by the Accra Regional Branch of the CPP, attracted many party activists including Regional and National Executives members of the Party. He said the CPP was prepared to face the "Mate Me Ho" people squarely on ideological warfare and counter their anti Osagyefo Dr Kwame Nkrumah, First President of the Republic of Ghana, propaganda. He said the Central Intelligence Agency (CIA) of the United States of America used 13 million dollars to fund the overthrow the CPP Government.


Mr Pratt said the biggest achievement of the Osagyefo's Government was the confidence he gave to Ghanaians and the people of Africa that they were capable as any other people in the world.


Mr Robert Wood, Chairman of the Economic and Finance Committee of the Party, said without Osagyefo Dr Nkrumah Ghana would have disintegrated into splitter groups.


He said Osagyefo Dr Nkrumah understood the policy of capital formation, which led to nation building adding that those who criticized him did not understand his policies.

Mr Wood if Osagyefo Dr Nkrumah had set up a committee of enquiry into the activities of those detained under the PDA it would have laid bare the truth of the matter.


He said it saddens his heart that Ghana was not making good use of Busumuru Kofi Annan, UN Secretary General and added that if Dr Nkrumah were to be alive today he would have made good use of him for the betterment of Ghana.


Dr Edmund Delle, National Chairman of the Party, said the forum marked the beginning of greater things to come and added that the CPP was alive.


He said the legacy and policies of Osagyefo Dr Nkrumah were alive adding that it was saddening now that an opportunity was presenting itself for the CPP to rule the nation once again, the Party was now divided.


Dr Delle said never again should CPP allow the New Patriotic Party (NPP) and National Democratic Congress (NDC) to look down on the Party and urged the rank and file to keep its spirit alive.


He urged the Party members to channel their efforts and resources towards its re-organization to enable it to capture power come the 2008 Elections. 8 Sept. 06

Source: GNA