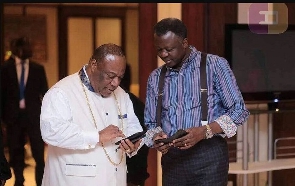 Nana Hesse Ogyiri, a presidential staffer, has openly disagreed with a call for the construction of the National Cathedral project to be halted pending an independent audit.
The call was made on January 24 through a leaked memo by two members of the Board of Trustees of the project, Archbishop Nicolas Duncan-Williams and Reverend Eastwood Anaba.

Cathedral becomes center of controversy:

The National Cathedral project has been in the news recently for not too good reasons, as a result of a myriad of allegations levelled by Member of Parliament for North Tongu, Samuel Okudzeto Ablakwa, against the Board and its secretary, Rev. Kusi Boateng.

Hesse Ogyiri cited biblical reasons for his disagreement with the call by the respected clergymen. He published his views on micro-blogging site, Twitter.

What Hesse Ogyiri said:

"Don't forget that, JESUS defended the woman who broke the alabaster box at betany and not the disciples of Jesus.... For the disciples of Jesus, their opinion was that; the Alabaster box be sold and the money be used to take care of the poor...
"The disciples made common sense but the master Jesus rejected their call... Matthew 26:6-13. This sums up the construction of the National cathedral. I disagree with the position of Papa Duncan Williams and Eastwood Anaba," his tweet read.

Duncan-Williams, Anaba call for probe:

Accra-based Joy FM published a memo dated January 23, sent to the Board of Trustees, calling essentially for a halt and an independent audit of the project's expenditures.

"That in the spirit and cause of transparency and accountability to the Ghanaian people, the current Board of Trustees of the National Cathedral shall appoint an independent, nationally recognised accounting firm to audit all public funds contributed to and spent by the National Cathedral.

"Auditors will also audit the overall cost of the project. This appointment of an auditor shall take place before the deferment of activities of the Board of Trustees," excerpts of the memo said.

SARA/SEA