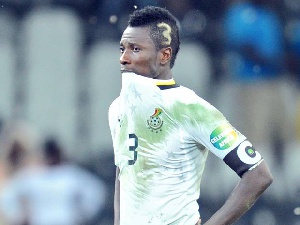 Ghana coach Kwesi Appiah is hosting a returnees party in Kumasi next week, but can he justify his change in approach?
Rocked by defeat by Kenya last month, a loss that triggered fresh questions over his decisions in charge of the Black Stars, the Ghana boss has responded with a squad full of players returning to stake their claim in the side again.

Of the 23 players called up by Appiah for the double-header against Sierra Leone, ten did not make the trip to Kenya and four - Bernard Mensah, Jonathan Mensah, Mubarak Wakaso and John Boye - are getting their chance again after at least a year out in the cold.

The changes reflect Appiah's lingering disappointment over the outcome of the last 2019 Africa Cup of Nations qualifier in Nairobi, but there will also be those convinced that those same changes are beginning to reflect his own indecision and unwillingness to make the decisive calls.

The returning faces also bring into question the team-building agenda he has consistently discussed.

The decision to recall Asamoah Gyan highlights both concerns.

Gyan's return, plus those of his teammate Bernard Mensah, Richmond Boakye and Emmanuel Boateng, Appiah hopes, will take care of the difficulty with goalscoring that was so clear against Kenya.
Bernard Mensah, on-loan in Turkey from Atletico Madrid, is back after a three-year absence thanks largely to a good start to the season at Kayserispor, where he has played regularly as Gyan has watched on from the bench.

Boakye has rediscovered his scoring touch with three goals in three games since he returned to Red Star Belgrade from China, while Boateng is a promising option even if he can't match the goal return of his compatriots.

Gyan, surely, is returning to the fold based on past successes rather than actual performance.

The case of Ghana's all-time leading goal scorer poses a challenge that Appiah must tackle head on.

Ghanaian football has typically struggled to phase out big-name players.

When the system no longer had a use for former Sunderland defender John Mensah on the field, he was still kept around as general captain.
It was the same routine with ex-Blackpool goalkeeper Richard Kingson, while Stephen Appiah also travelled to the 2010 World Cup in South Africa as general captain when it was obvious from the sporting angle that his time was up.

Gyan is in twilight zone of his career, and the lack of game time at Kayserispor is the most glaring evidence of that.

With Baby Jet having only featured for 35 minutes so far this season, Ghana must surely begin to think beyond him and keep an eye on the future.

It would not be disrespectful for Gyan, but Appiah is clearly having doubts about being the person to prompt that change, even if it would mean putting the Black Stars first.

Unfortunately, results have dictated that the coach must adopt a short-term strategy, with the margins for error particularly slim after the Kenya defeat.

He's come to the conclusion that Gyan deserves his place, even if his club form screams otherwise.
What's most curious about the Gyan decision is that the coach has ignored other players who have better sporting claims.

Both Jordan Ayew and Andre Ayew have played more this season, with the latter scoring twice for Fenerbahce. In Belgium, William Owusu has done even better for Royal Antwerp, for whom he has been involved directly in six goals this nine league games this season (five goals, one assist).

He was given his debut call-up against Kenya, didn't get a minute, returned to score at club level and now can't get a look-in.

Many of the other big names returning to the side have earned their recall.

Mensah has been overlooked for a year despite a consistent streak of games for Columbus Crew, while Boye's return after a long spell out at international level suggests that their centre-back pairing could yet have a future.

Lumor Agyenyenu has not played for Sporting Lisbon this season but the lack of options on the left side of defence and his strong performances in his seven caps so far backs up his case.
Mubarak Wakaso's energy, work rate and passion in a Ghana shirt are always advantages for the national side, and he's also playing regularly in the Spanish top flight with Deportivo Alaves.

Appiah will hope the shake-up of his squad leads to an improvement in performance against Sierra Leone to boost the countries hopes of qualifying for the AFCON.

However, only tangible, on-field answers to the many legitimate questions that the many changes throw up will fully justify his change in direction.