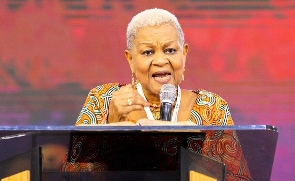 Joyce Aryee, a member of the National Cathedral's Board of Trustees, has commented on Bishop Dag Heward-Mills' resignation .
Bishop Dag Heward-Mills, Founder and Presiding Bishop of the Lighthouse Group of Churches, is the most recent person to speak out about the current issues at the National Cathedral.

According to the respected preacher, who revealed that he had resigned from the board, even though he was a trustee and attended all meetings until his resignation, he was not involved in or privy to discussions on the financial and technical issues concerning the project.

"I have been a reachable and available trustee and attended every single meeting of trustees since the pandemic began, in person and by zoom, and the records will show that."

"If I say that I, as a trustee, do not know many of the financial and technical issues concerning the Cathedral, it means the discussions about the National Cathedral were held by some people outside the trustees' meeting or perhaps in a forum that I was not present or invited to".
"On the one hand, the National Cathedral is said to be a Government of Ghana project, with the government taking financial decisions." "Yet, on the other hand, at meetings, it is implied that the trustees have taken or participated in taking some decisions," he said.

Joyce Aryee, who didn't want to respond to what the Light House Chapel Bishop said, asked host Kaakyire Ofori Ayim on Atinka FM's AM Drive how a board member who said he wasn't properly registered could resign from the board.

"Can you resign if you're not duly registered?" she quizzed.

Joyce Aryee declined to make further comments on the issue.