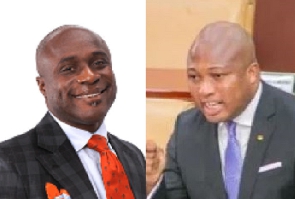 Samuel Okudzeto Ablakwa, Member of Parliament for North Tongu has disputed the National Cathedral Secretariat's explanation that they took a loan from secretary to the Board of Trustees, Reverend Kusi Boateng.
The GH¢2.6 million loaned amount has been contested by the MP who insists it was an irregular payment for no work done.

Ablakwa revealed on the January 27, 2023 edition of the Good Morning Ghana programme that it turns out that JNS Talent Center, a company Kusi Member is connected to, had received monies from COVID-19 funds, out of which they allegedly loaned a portion to the cathedral.

"This claim that he did us a favour and he gave the Cathedral Secretariat a loan …even though the Cathedral bank statement I have secured, at the time they said they were in distress and needed GH¢2.6 million desperately, they had GHC6 million sitting in their account.

"The bank statement of the National Cathedral at ADB, they had six million sitting in that account, so that story doesn't add up," he stressed.
He continued: "We now know that they (Kusi Boateng and JNS Talent Center) did their country no favour. It was our own money GH¢3.5 million COVID cash which he received for supplying tissue paper."

He also tasked the Auditor-General to review their current report on COVID funds and capture the said transaction because there were doubts as to whether the tissue paper supplies were even honoured.

SARA