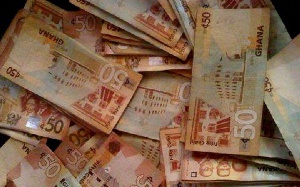 The local currency has maintained its superb run against the US dollar since the second week of March, eroding all the losses it incurred since the start of the year and even rising by one percent.
As at March 9, the cedi was trading at GH¢4.6 to the dollar, representing an 8.6 percent year-to-date depreciation.

But following a GH¢1 billion three-year bond sale to only domestic investors at a yield of 21.5 percent on March 10, there has been no turning back for the local currency.

The cedi has persistently risen against the dollar and on Wednesday reached an historic point where it overturned all its losses, making the GH¢4.16 exchange rate the lowest since December 23, last year, when it traded at GH¢4.15.

Apart from the first billion Ghana cedi debt sale signaling the currency's turnaround, a recent US$2.25 billion bond sale opened to foreign investors also bolstered confidence in the local economy, boosting the cedi's performance further.

Last Friday's bond sale becomes the single-biggest daily transaction in sub-Saharan Africa. The debt included a debut 15-year bond that raised GH¢3.42 billion (US$790 million) at a 19.75 percent yield.
Commenting on the bond sale, Finance Minister, Ken Ofori-Atta, stated that the issuance proceeds will be used to repurchase and/or retire a portion of the higher coupon short-term public debt instruments, meaning there will not be an overall increase in the total debt stock.

"This is in line with our liability management strategy which seeks to re-profile our public debt stock, extend tenors, reduce short term rollover pressures, and lower domestic interest cost. Additionally, this issuance will further help improve our foreign exchange reserves by over US$2 billion and further support the cedi," Mr. Ofori-Atta said in a statement.

On Friday, March 31, when government sold its US$2.25 billion debt, the local currency had a year-to-date depreciation of about 2.5 percent but by Wednesday, 72 hours later, it was out of the red, recording a positive (+1) gain over the dollar.

The cedi's strong performance would be a tremendous boost to importers in an economy which is largely dependent on imports. For government's own interest payments, the positive performance would mean the foreign component, approximately 20 percent, of the overall interest payment becomes cheaper.

Total interest payment on government debt is estimated at GH¢13.9 billion, representing 23.9 percent of total expenditure and is equivalent to 6.9 percent of GDP.
Of this amount, domestic interest payment constitutes 80.5 percent and amounts to GH¢11.2 billion.

According to the Finance Minister, "the successful bond issuance is an indication of the markets' belief in our commitment to building an effective public financial management system, improve the country's debt sustainability outlook and mitigate the crowding out of the private sector.

It is imperative that we re-profile our total debt stock of US$30 billion which should help put us on a path of 'Ghana beyond Aid'."

- See more at: http://thebftonline.com/business/economy/23829/cedi-reverses-dollar-routgains-1percent-in-historic-run-.html#sthash.6yayYAni.dpuf