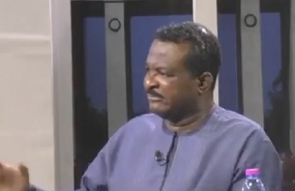 The Member of Parliament (MP) for Cape Coast South Constituency in the Central Region, Kweku George Ricketts-Hagan, has been predicting the way forward with regards to government's external debt negotiations.
President Nana Akufo-Addo a few weeks ago said his government is "making progress on the external debt negotiations" with its development partners "since the government announced an external debt service suspension on 19th December 2022 for certain categories of external debt to ensure an orderly restructuring."

Also, Finance Minister Ken Ofori-Atta left Accra for China on Sunday, 19 March 2023, as part of efforts by Ghana to secure debt forgiveness from the Asian giant to whom the West African gold producer owes $1.7 billion of its total of $5-plus billion owed the Paris Club.

Speaking to Nana Otu Darku on CTV's Dwabre Mu, the Cape Coast South MP noted that: "China is the only country in the world at the moment that is likely to lend money to Ghana."

According to the MP, "China takes an independent decision most of the time, against the rest of the world and they don't interfere. China's foreign policy is that 'we don't interfere in your political or financial affairs or whatever. We're [China], trying to help you so whether you're a bad regime or a good regime, we don't care we just want to have a good friendship with you.

"'We [China] have money so we'll give you some and then we collaterise it on the natural resources that we need. China's interest is natural resources. So when we [China] take your natural resources, whatever money you want, we'll give it to you as long as those assets you have in the long run can become ours [China's].'"
He revealed that: "The bulk of the debt Ghana owes China, is actually for bauxite. We promised them bauxite, the syno-hydro and all that, so the question to be asking is, is the bauxite finished? Why are you going to negotiate?"

"Why go and negotiate if you still have the bauxite?"

The Cape Coast South MP alleged that Ghana is yet to mine the bauxite meant for the payment of the debt to China.

He continued that: "This is what will happen in this arrangement. That what will happen in the end with the China agreement is that money will be taken for investment and the investment will be in the area of bauxite.

"The reason for our inability to mine the bauxite is due to lack of equipment. The Chinese will say, 'We'll help them to enable us recover our money.
"'Thus, we'll agree to give you the equipment to go and mine the bauxite and bring it to us, so take this amount of money'. And that relieve is what Ghana will put into its reserve to help the cedi appreciate."

He, however, stressed that what Ghana is not likely to have is its debt cancelled.

You can also watch this episode of People & Places here: