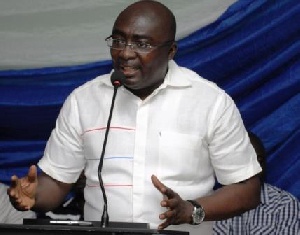 Dr Mahamadu Bawumia, Vice Presidential candidate of the New Patriotic Party (NPP), has revealed that government borrowings within the last seven and half years stands at about $40 billion, but the total value of investment and infrastructure is just about $7 billion.
Dr Bawumia disclosed this over the weekend at the Trade Fair site in Accra where the NPP launched its manifesto.

"Under this John Mahama-led NDC government, every development initiative or infrastructure project is seen as an opportunity to loot public funds.

"The monies lost through corruption from create, loot and share schemes like SADA, TEEDA, Woyome, Waterville and other judgment debts, Smartys bus branding, Embraer, Karpower, Ameri power, and the routine over-pricing of contracts through sole sourcing, are huge," he stated, adding that Ghana approached the IMF for bailout due to economic mismanagement and corruption.

Supporting his claims with a statement by the Managing Director of the IMF, he said: "Most of Ghana's borrowing under the John Mahama administration has been spent on corruption, on consumption, rather on investment. After eight years of mismanagement, the banking system has been pushed to dangerously fragile level. Eight banks are currently on the verge of collapse."

'Killer' taxes
According to Dr Bawumia, there had been massive increases in the capital gains tax, in withholding taxes, VAT on electricity, financial services, real estates, special import levy, adding that taxes had been introduced on ambulances and bicycles.

He said while the NHIS and the pre-maternal health system had virtually collapsed, youth unemployment was high and rising.

"Teacher training allowances have been cancelled and so are nursing allowances. Nursing and health assistants are not being posted after completion. Drivers and transport operators have seen a dramatic rise in the cost of insurance, spare parts, licence fees, DVLA charges and fuel."

Pensioners under threat

"Currently, the financial viability of SSNIT is in question. The World Bank, in its 2016 report on governance of SSNIT, says that the actuarial valuation shows that the fund becomes cash flow negative in 2019 and all assets will be used up by 2031. At this point, the benefits will have to match inflows and will lead to very significant cuts in the benefits for current pensioners.
This is the World Bank telling us that SSNIT is collapsing and that will result in a cut in pensions."

Couple of comparisons

"Under eight years of NPP government 2001 to 2008, taxes and total loans amounted to just GHC20 billion. In contrast, taxes, all revenue and loans under the period of the 8 years of the NDC amounts GHC248 billion. Notwithstanding all these, economy is in decline. Since 2011, real GDP growth has declined drastically from 14 percent with the onset of oil production, to 3.9 percent in 2015."

Declining growth

"President Mahama's tenure of office has been characterized by declining economic growth. In fact, between 2012 and 2016 that is during his tenure the economy, in dollar terms, shrank by 5 percent.
Under the NDC, in the last 8 years, we have seen a growth in real GDP per capita by 17 percent from $1266 to $1481. This is with oil revenue. Under President John Mahama, capita income has declined by 12 percent.

"Under NPP, GDP per capita recorded an increase of 187 percent in 8 years from $440 to $1266 without oil. This tells us that fundamentally, Ghana's problem is not about resources. Our problem is the efficient and honest management of our resources."

Total debt

He said in just seven and a half years, government's debt has increased from GHC9.5 billion to GHC110 billion.

"Ninety percent of Ghana's total debt has been accumulated in the last seven and half years under NDC government. And 67 percent of the total debt has been accumulated in just three and half years under President John Mahama."
Ghana has now been classified as a country at a high risk of debt distress.