David Adjaye hasn't been contracted to design a new Kigali Cathedral – Ablakwa fact-checks Adom-Otchere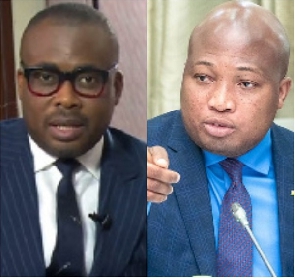 The Member of Parliament (MP) for North Tongu, Samuel Okudzeto Ablakwa, has refuted suggestions by some Ghanaians including broadcaster Paul Adom-Otchere that the contract for the design of a new Kigali Cathedral for Rwanda has been awarded to the architect of the National Cathedral of Ghana, Sir David Adjaye.
According to him, the Rwanda Development Board has officially written to him about an enquiry he made on the cathedral and told him that no such contract exists.

In a tweet shared on Sunday, May 28, 2023, the MP described the assertions that the Adjaye has won the contract as mere fabrications.

"At 12:57pm on Friday May 26, 2023, I received formal response to my enquiry from Mr. Ben Gasore, Digital Media Consultant at the Rwanda Development Board stating unambiguously that the RDB has not awarded a contract to David Adjaye to design a Kigali Cathedral," parts of the tweet read.

The tweet had pictures of stories on the award of the contract and a picture of Paul Adom-Otchere when he was making the claim on his Good Evening Ghana programme on Thurday.

The broadcaster claimed that the Rwandan President Paul Kagame has contracted Sir David Adjaye to build the cathedral using state funds.
"Paul Kagame has called Sir David that what is Ghana saying about you? ….and they are building a Cathedral in Rwanda.

"And they are building it with taxpayers' money because Kagame has taken the decision that as he is getting ready to exit, he needs to put the cathedral inside the ground of Rwanda," he said.

View Ablawaka's tweet below:


At 12:57pm on Friday May 26, 2023, I received formal response to my enquiry from Mr. Ben Gasore, Digital Media Consultant at the Rwanda Development Board stating unambiguously that the RDB has not awarded a contract to David Adjaye to design a Kigali Cathedral.

Fake news it was! pic.twitter.com/7JRbkGpOoa

— Sam Okudzeto Ablakwa (@S_OkudzetoAblak) May 28, 2023
Meanwhile, watch the latest episode of SayItLoud on GhanaWeb TV below:








IB/OGB