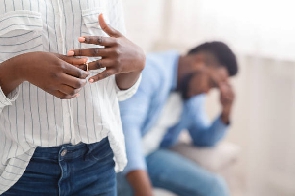 Dear GhanaWeb,
My girlfriend found out that I had an affair while we were together and has since not forgiven me, despite my apologizing to her every day.

She informed me that she would only forgive me if I let her cheat once with a guy of her choosing. Either that, or she breaks off the engagement.

I've been giving it some thought, and the more I do, the more depressed I am.

I can't stand the idea of her being with another man. I love her and don't want to lose her, but her demand is wicked and unfair. I'm unsure of what to do.
What do I do?

Dear GhanaWeb is a relationship and lifestyle advice column by GhanaWeb where the GhanaWeb audience responds to your questions and problems about relationships at home, work, and beyond. Share yours with GhanaWeb via:features@ghanaweb.com.

ADA/BOG