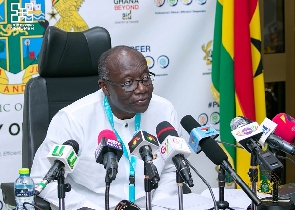 Former Deputy Minister in charge of power, John Jinapor, has said despite the Independent Power Producers (IPPs) declaration that they will kick against any decision by government to restructure the US$ 1.4 billion debt owed them, the government has failed to hold engagements with them.
He accused the Minister of Finance, Ken Ofori-Atta, of being detached from reality amidst the hardships Ghanaians are facing in this economic crisis.

Speaking on CitiFM's Eyewitness news and monitored by GhanaWeb Business, Mr Jinapor said, "They [IPPs] have said earlier that they will not accept it and the Minister hasn't even had the courtesy to meet them so he is living in a different world. He is missing all the targets."

It would be recalled that on Tuesday, June 27, 2023, the Independent Power Producers said they will not agree to any debt restructuring programme should government propose it.

According to the Chief Executive Officer of Independent Power Producers, Elikplim Apetorgbor, failure by government to settle its debt of US$1.4 billion will plunge the country into a power crisis.

Mr Apetorgbor noted that his outfit had earlier informed government to pay at least 30 per cent of its debt.
The IPPs, namely; Karpowership, Sunon Asogli Power Ghana Ltd, CenPower Generation, AKSA, Twin City Energy and Cenit Energy produce about 65 per cent of the country's thermal power.

He mentioned that IPPs have defaulted on their first-quarter payments and fear they would default on their second-quarter payments if the government does not settle their due.

Meanwhile, the Chief Executive Officer of Independent Power Producers said they are open to a payment plan on how government can settle their arrears, stressing that debt restructuring was not an option.

ESA/NOQ