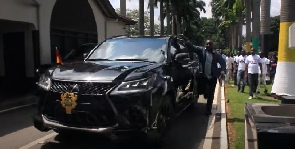 Member of Parliament for North Tongu, Samuel Okudzeto Ablakwa has alleged, citing documentation available to him, expenditure in excess of GH¢191 million by the Office of the President over a nine-month period last year.
Ablakwa through a January 31, 2023 post on social media said, the amount in question was a computation of 10 out of 250 expenditure items in an official report he was still poring over.

Among specific expenditure items, spanning January to September 2022, the presidency's budget for fuel needs alone came up to over GH¢51 million cedis.

A portion of his post addressing this read: "The fuel bills paid at the presidency within the 9-month period under review cost the suffering Ghanaian taxpayer a colossal GH¢51.1million. (GH¢51,109,137.86).

"Empirical analysis conducted reveals that government failed abysmally in its promise to slash fuel expenditure by 50%" he added.

Government announces fuel cuts in austerity push:
Last year, government as part of measures to deal with an economic downturn announced a number of measures including salary cuts and a slash in fuel allocation for members of the Executive arm of government.

The fuel allocation slash pegged at 50% was subsequently activated along with a 30% cut in salaries of the Executive and some top appointees.

In an April 19, 2022 letter from the Chief of Staff, Akosua Frema Osei-Opare, to the Controller and Accountant General, the double measures were to take effect from 1st April.

The letter titled 'Expenditure Rationalization Measures,' said all Ministries, Departments and Agencies; Metropolitan, Municipal and District Assemblies, and State Owned Enterprises should reduce fuel allocations to political appointees and heads of MDAs, MMDAs, and SOEs by 50% with effect from 1st April, 2022.

The letter continued: "This directive applies to all methods of fuel allocation, including Coupons, Electronic Cards, Chit Systems, and collection from fuel depots."
Ablakwa's post concluded by stressing the fact that there was more in the report he was perusing because he had picked out 10 items out of 250 others.

"Instructively, the 10-item expenditure summary above which amounts to a massive GHS191,522,061.68 represents a tiny sample selection from more than 250 expenditure items contained in the Expenditure Documents currently under parliamentary scrutiny," he added.

Find Ablakwa's full post below: