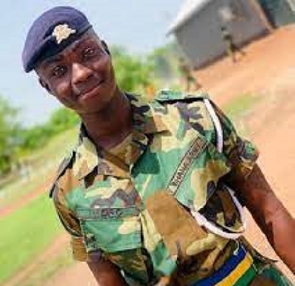 Defence Minister Dominic Nitiwul has asked the family of the slain soldier, Imoro Sherrif has to remain calm and have faith in the state security system to bring about justice.
The Minister made the appeal when he led members of the defence and interior committees of Parliament to pay a visit to the deceased's family at Ashaiman Zongo Laka on Thursday, March 17, 2023.

The committee members were there to express their condolences.

He asked the family not to take revenge for the death of their son.

"Don't take revenge as a family and people of Ashaiman. The gods of Ghana will answer you. I know that it is difficult for all of us, but God has a way of defending the defenceless, and Ghana will defend this family and the people of Ashaiman and in doing that, we will do what is right in accordance with the law. We at the Ministry of Defence are there and will support you", he said.
The Police revealed recently that the 22-year-old soldier with the Ghana Armed Forces (GAF) band in Sunyani in the Bono Region was allegedly stabbed to death by suspected robbers who robbed him of his phone.

The soldier was said to be returning from a female friend in Ashaiman-Taifa and heading toward his residence when the unfortunate incident occurred.

He has since been buried with persons believed to be his killers arrested.