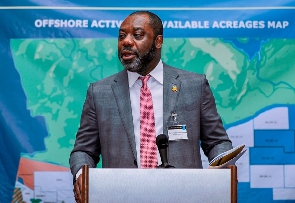 The Ministry of Energy has responded to Former President John Dramani Mahama's criticism of the Nana Addo Dankwa Akufo-Addo government on Ghana's oil production.
The former president berated the Akufo-Addo-led government for their lack of efforts to increase the country's oil production in the upstream sector over the last seven years.

According to him, greed and ineptitude against national interest have engulfed the current government which has resulted in the lack of development in the oil and gas sector.

In a tweet posted on February 6, 2023, John Mahama described the development as 'wasted years' despite his National Democratic Congress government handing over two new oil fields to the Akufo-Addo government in 2017.

"Wasted years! We bequeathed to the Akufo-Addo government two new oil fields, TEN and Sankofa. Greed and ineptitude as against national interest means a sad reality of no additional production activity in our upstream oil sector in the last 7 years," John Mahama wrote.

Reacting to this in a statement issued on Tuesday, February 7, 2023, the Energy Ministry said that the oil fields Mahama mentioned in his post were all discovered by the John Agyekum Kufuor-led New Patriotic Party (NPP) government.

It added that the Akufo-Addo government has discovered seven new oil fields from 2017 to date.
"It cannot be lost on John Mahama and his followers, that oil production is capital intensive, high risk and dependent on the availability of investor funds, market conditions as well as prevailing global trends among others at the time discoveries are made. Thus, for John Mahama to claim that President Akufo-Addo has wasted seven years without additional production activity exposes him as a man who has no compelling knowledge of the upstream oil and gas industry.

"For the record, under the Akufo-Addo presidency, Ghana has seen an unprecedented oil well drilling success rate from all exploration wells drilled from 2017 to date. Out of seven (7) exploration wells drilled during the period, six (6) of them were successful resulting in 7 discoveries.

"These discoveries are: Aker's Pecan South East (2018), AGM's Nyankom-1X (2019), Springfield's Afina-1X (2019), Eni's Akoma-1X (2019), Eni's Eban-1X (2021) and Eni's Aprokuma-1X (Albian and Cenomanian discoveries) (2022)," parts of the statement read.

Read the full statement by the Energy Ministry below:



IB/DA