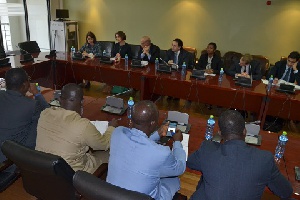 Thu, 1 Mar 2018 Source: Jeannette Nana Aba Forson
Finance Committee of Parliament has engaged with executives of the International Monetary Fund (IMF) to review the 2017 fiscal year ahead of the fifth and sixth reviews of the program.
The engagement forms part of continuous discussions around the fifth and sixth review of the IMF program.

The eight-member delegation led by Mission Chief for Ghana, Annalisa Fedelino in their submission to the Committee noted that the meeting with the Finance Committee was in accordance with an arrangement by the group to engage the committee and update them on the status of the program from time to time.

They outlined major economic successes achieved in the 2017 fiscal year. The delegation was full of praises for the Ghanaian economy for achieving its key targets including significant decline in inflation from 11.8% in December 2017 to 10.3% in January 2018 and a decline in interest rates across all maturities. It also commended the Ghanaian economy for its gains in the energy sector, adding that a steady progress has been made in the energy sector.

Reviewing the 2017 fiscal year with the Finance Committee, the team submitted that performance for the 2017 fiscal year was generally impressive despite government's ambitious agenda of structural reforms in the economy.

Head of delegation, Annalisa Fedelino noted that the measures put in place by government to ensure revenue collection was sustainable and should be encouraged further. Commenting on her impressions about the engagement with the Finance Committee Anna Fedelino noted, "It's a good way to get a sense of what we are doing. We receive questions from across the aisle and also to ensure that the arguments we put forward are good to provoke some discussion on the program objectives".
Members of the delegation took turns to respond to questions from members of the committee on various issues including debt management, budget deficit and bonds. Chairman of the Finance committee Dr. Mark Assibey Yeboah explained that the meetings were very fruitful and provided an opportunity for both sides to share views on the economic policies.

"I think parliament is the only institution that provides the IMF with views from both sides of the political divide. Engaging with them affords us the opportunity to discuss the issues from diverse points of view. Indeed the quality of discourse here with members is also guaranteed for the purposes of feedback on the programs, " he remarked.

Ranking Member of the Finance Committee Cassiel Ato Forson also pointed out that the engagement with the delegation was a regular occurrence. He attributed the IMF's respect for engaging the committee to the confidence of the IMF in the work of the committee.

The IMF is set to complete the fifth and sixth reviews of the IMF program in April 2018 as part of the requirements to be fulfilled as Ghana nears an exit from the program in December 2018.
Source: Jeannette Nana Aba Forson