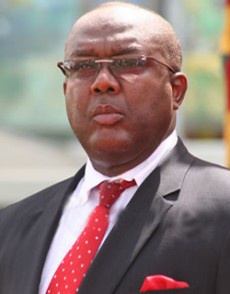 Mon, 19 Nov 2012 Source: Joy Online
Eastern Regional Minister and NDC's parliamentary candidate for the Abuakwa North constituency is questioning the NPP flagbearer's contribution to "even basic education" in Abuakwa as their Member of Parliament for 12 years, out of which he also served as a Cabinet Minister under former President Kufuor's entire eight-year term.
Nana Akufo-Addo has pledged to redefine basic education by extending it to cover Senior High School level and make it free, if elected president in the December 7th polls,

However, Ambassador Smith said Abuakwa South where Nana Akufo-Addo was a Member of Parliament for 8 years, still has most of the Municipality's dilapidated basic schools even after numerous interventions by government in the last four years, questioning Nana Akufo Addo's track record as a facilitator of development for his area during his 12 years as MP.

The Minister, who made these comments when he joined the people of Ankaase-Maase in the Abuakwa South constituency to celebrate the Ankaase-Maase LA Primary School's 25th anniversary, further added that the NPP's promise of free SHS is synonymous to building on weak foundation.

He reiterated his call on Ghanaians to insist on having people with vision, good track record, integrity and credibility to lead this country especially as we go to the polls in December to elect our president and members of parliament.
Zero percent BECE results

Headmaster of the school, Mr Alhassan Fuseini also bemoaned the dilapidated nature of his school and said children from different classes had to be taught together due to inadequate classroom blocks which affect academic performance, adding, "we have recorded numerous 0% in BECE because of these problems".

Mr Fuseini was however quick to add that the only major interventions the school has seen since its establishment in 1986 are classroom blocks in 1996 under former President Rawlings' and another in 2010.
Source: Joy Online