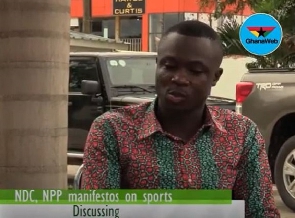 Sports journalist Saddick Adams alias Sports Obama has averred that the Ghana Premier League is at a stage of 'near collapse.'
He wants the Ghana Football Association (GFA) and other stakeholders to admit to that reality whiles stressing that the downturn did not start recently.

He made his views known in a tweet of January 8, 2023 lamenting principally how the league had become a mechanism that produces a standout player who is sold before long.

It's for the Ghana FA and its assigns to admit to the near-collapse of our league [which did not begin with them by the way].

"Not to continue seducing ourselves that there's something worthwhile going on with league beyond the praxis of waiting to ship the next player abroad," his tweet read.

One of the biggest issues that has become topical with the league is the ever dwindling number of fans attending matches.
The small teams are recording numbers in the hundreds while the big teams are barely marshalling 10,000 spectators even at home.

The league is the product of the GFA but it is managed by the Ghana League Clubs Association (GHALCA) along with other stakeholders.


It's for the Ghana FA and its assigns to admit to the near-collapse of our league [which did not begin with them by the way].

Not to continue seducing ourselves that there's something worthwhile going on with league beyond the praxis of waiting to ship the next player abroad.

— Saddick Adams (@SaddickAdams) January 8, 2023
SARA