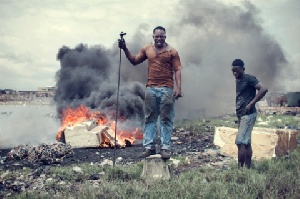 The German government has commended the Ghana government for passing the law on e-waste, and is providing financing to the tune of €25 million for a project to manage e-waste in the country.
E-waste is a major environmental and public health issue in Ghana as the country for a long time has been subjected to illegal dumping of the hazardous items.

Multiple scientific studies done on soil and water collected from the sites of the dumping at Agbogbloshie in Accra are showing extremely higher levels of carcinogenic substances such as lead, cadmium, barium and others, and these are spreading beyond the processing site. The contamination has reached areas including James Town, Korle-Gonno and the Korle-Bu Teaching Hospital.

The environmental group, Greenpeace in 2008 conducted the first scientific test of the soil and water at Agbogbloshie. Results of lab tests of the soil and water, showed that the soil and water in the area contained toxic chemicals at levels a 100 times more than World Health Organisation allowable limits.
In 2016, a UN Environmental Programme and INTERPOL report cited Ghana as one of the top destinations for the trafficking of illegal hazardous wastes in the West African sub-region.

The only known comprehensive assessment report of the e-waste situation in Ghana, which was conducted in 2011 found that 171,000 tons of e-waste reaches the country's informal recycling sector.

To tackle the problem Ghana passed the Hazardous and Electronic Waste Control Management Bill 2016 which was drafted in 2012.