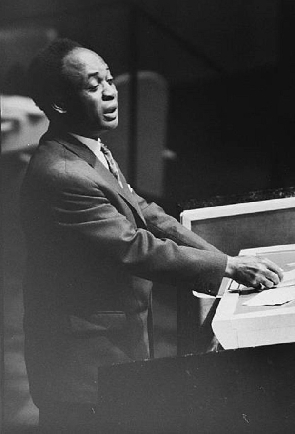 The Convention Peoples Party (CPP) has condemned the current state of Ghana's economy, as it commemorates the overthrow of the first president of Ghana, Dr Kwame Nkrumah which happened on February 24, 1966.
In a statement issued on Friday, February 24, 2024, the CPP said that the strong foundation laid by Dr. Kwame Nkrumah has been eroded by the poor management of the country by successive governments since his overthrow.

It added that after Nkrumah led Ghana to resist the oppressors' rule, the country after 57 years is now oppressed by disease, poverty, poor health care, infrastructure deficit in education and housing, as well as poor roads.

"Today, 57 years after the unfortunate February 24 coup d'état that ousted the CPP government, which was led by Osagyefo Dr. Kwame Nkrumah, Ghana has stopped working, the nation is at a standstill, and nothing is being done to salvage the socio-economic problems we find ourselves in. 

"Whilst the CPP was doing everything possible to lay the foundation for a prosperous and an economic independent nation, the local imperialists were busy with their foreign counterparts to stake a coup to oust the CPP out of government. 

"The country is bleeding and being woefully mismanaged, we are broke and have to resort to taking money from the vulnerable in society to be able to even qualify to participate in an IMF program because our debt portfolio is scary to look at and very unsustainable," parts of the statement read.
It also berated the Nana Addo Dankwa Akufo-Addo government for the current state of Ghana's economy.

The party stated that it is unconscionable that Ghana, which was the promising child of Africa under Nkrumah, will now go around the world begging countries like China for its debts to be cancelled because the Akufo-Addo government has borrowed so much.

The CPP urged Ghanaians to vote it back to power because it is the only party, as the records have proven, that can truly transform Ghana.

Meanwhile, catch the latest GhanaWeb TV Election Desk interview with Francis Addai-Nimoh, as he discusses his plans to become the NPP's flagbearer, below:




You can also watch this episode of People & Places on GhanaWeb TV below:



IB/OGB