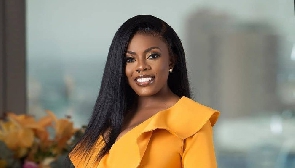 Nana Aba Anamoah, a prominent media personality in Ghana, has sparked a debate with her recent comments about Ghanaian women.
In an interview on Joy FM, Nana Aba boldly claimed that Ghanaian women are perfect and that any imperfections only surface when they are with the wrong men.

"Ghanaian women are perfect, the only time you see any imperfection is when we're with the wrong men. If you're with a woman who is caring, what improvement are you looking for? What is your definition of more caring?" she quizzed.

Nana Aba Anamoah challenged men who seek more caring or responsible partners, asking them what more they could possibly want from someone who is already caring and responsible.

The mother of one also stressed the importance of reciprocity in relationships, noting that it is unsustainable to expect too much from someone while giving nothing in return.

"Because if you have a woman who is responsible and you say I need more responsibility, what are you talking about?
"It depends on the man in the relationship, if I'm supportive and you're not supportive, you don't expect me to be supportive forever, it stops at some point. You can't eat your cake and have it, you can't expect so much from someone when you're giving nothing back.

"You're in a relationship with a man and the woman is just giving and giving and the man does nothing, the man is just comfortable with the woman giving everything and he's not doing anything about it," Nana Aba added.

Nana Aba Anamoah is the brain behind the "Women in Valour" project, an initiative aimed at inspiring young girls, entrepreneurs, and women worldwide on the right path towards achieving greatness.

The Women of Valour event is designed to bring together women with exceptional tales of bravery from Africa and beyond, to share their stories of triumph, and loss, and to inspire other women to greatness.

The conference features notable personalities like award-winning Nigerian actress Omotola Jalade Ekeinde, who will speak about her struggles and how she dominated the movie industry in Nigeria and beyond.
Additionally, Julia Stuart, an award-winning presenter at Super Sports International in South Africa, and Eugenia Baffour Bankoh, a Ghanaian social entrepreneur and women and children's rights activist will also speak at the event.

The first edition of the conference themed "Untold Stories of Courage," will hold on March 7, 2023, at the Labadi Beach Hotel in Accra.

Watch the latest episode of Talkertainment below:



Watch the latest episode of E-Forum


Watch the latest episode of Nkommo Wo Ho below:



ADA/FNOQ