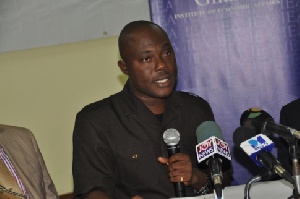 Political scientist with the University of Ghana Dr Ransford Gyampo has said successive governments have deliberately starved the National Commission for Civic Education (NCCE) of funds for their selfish interests.
Questions have been raised about the commission's ability to organise a dialogue for presidential and parliamentary aspirants in the lead up to the November polls when the commission itself has constantly complained about inadequate funding, a reason for which it could not roll out intensive nationwide sensitisation on the just-ended limited voter registration exercise.

Speaking to Class News, Dr Gyampo said the NCCE must not rely on funding from government since it is in the politician's interest when the electorate is ignorant.

"For most politicians, they will want citizens to remain in that ignorant status so they will always not be committed to ensuring that people become enlightened and, so, you will have politicians being lackadaisical when it comes to providing funding for the activities of the NCCE," he stated.
He, however, advised the NCCE to find other ways of financing their activities rather than relying on funds from government.

"But the NCCE itself will also have to be proactive enough in making itself marketable to other stakeholders and donors, so that [they] will get more funding not only from government but from people outside government, so that they can be also financially self-sufficient to be able to carry out your mandate because government cannot do everything," he said.

"I am saying that apart from the fact that government cannot do everything, sometimes for some politicians, it is to their advantage for people to live in ignorance because the more ignorant people are, then the less accountability they will demand from government."