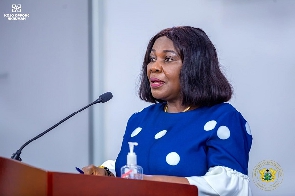 Minister of Sanitation and Water Resources, Cecilia Dapaah, has said the government has so far invested close to $1 billion to facilitate the provision of sustain­able water and sanitation needs across the country.
She said the government did so by deploying a Public Private Part­nership (PPP) approach in tackling the rising demand for water and sanitation needs over the years.

According to a statement issued by the ministry and copied to the Ghanaian Times in Accra yesterday, Mrs Dapaah said this when the Executive Secretary of the African Ministers' Council on Water (AM­COW), Dr Rashid Mbaziira, paid a courtesy call on her in Accra last Friday.

She noted that the deployment of the PPP approach led to the provision of Integrated Compost and Recycling Plants, Wastewater Treatment Plants, Condominium Sewers, Water intake and treatment plants.

She said that AMCOW was the future of water in Africa as through its summits, African com­mitment to ensuring the provision of sustainable water solutions to her citizens were renewed.

"The country is open to new proposals and inputs in tapping into Ghana's 53.2 billion m3 Renewable Water Resources," she added.
Following the reviewing of the National Sanitation Policy, with focus on open defecation, the Min­ister of Sanitation and Water Re­sources indicated that the ministry was fully committed to supporting the activities of AMCOW through data sharing with sister countries for the collective good of Africa.

Mrs Dapaah said it was im­portant to mobilise high-level political buy-in and commitment for the roadmap to formulate the post-2025 Africa Water Vision in implementing continental and global commitments on water and sanitation.

She reiterated Ghana's full support for the proposal to ap­point a United Nations Secretary General's Special Envoy on Water to strengthen Africa's voice at the global level in order to accelerate progress towards achieving water and sanitation goals in Africa.

Dr Mbaziira for his part stressed the need for African countries to focus on using the digital elements available to them for data collec­tion in the water sector.

He used the opportunity to commend Ghana for the successful implementation of the Greater Accra Metropolitan Area (GAMA) Water and Sanitation Projects, and the World Bank is considering rep­licating the project in other African countries.