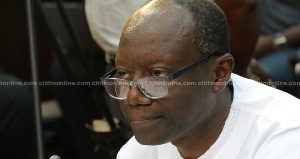 Finance Minister Ken Ofori-Atta has said government is not pulling out of the three-year $918m IMF deal as some media houses are misinterpreting President Nana Akufo-Addo to have said when he met journalists for his first press conference.
At the press conference, the president said: "The IMF programme is not going to be extended," adding: "We are committed to completing the programme. The last budget that is going to be held under the IMF will be the budget that is going to be laid before the House in November by the Finance Minister."

He pointed out that the move to end the programme was important because "we will be on our own to be able to mobilise resources to confront our future", adding: "The concept is a Ghana beyond aid."

Subsequently, the Ministry of Finance has issued a statement clarifying that the president's comments did not mean his government was pulling out of the programme ahead of its deadline.

"The government will like to reiterate and clarify the president's state at the first Meet The Press held on 18 July 2017 when he mentioned that Ghana wouldn't enter a new deal with IMF beyond the current programme. In response to a question, the president stated that: 'There is no question of the IMF programme being extended. It is coming to an end next year with the budget that we are going to prepare. This statement has unfortunately been misrepresented by some section of the media.
"The government will like to clarify that Ghana will complete the IMF programme throughout budget cycle of January 2018 through December 2018 as stated by the president. The 2018 budget will therefore be the last budget under the current IMF programme. After the completion of the programme at the end of the budget cycle in December 2018, government will not extend it.

"The president's remark should, therefore, not be interpreted to mean that the government is pulling out of the IMF programme. On the contrary, government will continue with it and complete the IMF programme through the budget cycle of January 2018 through December 2018," the statement said.