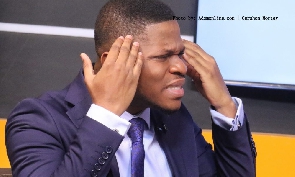 The National Communications Officer of the National Democratic Congress (NDC), Sammy Gyamfi, has berated the Nana Addo Dankwa Akufo-Addo government over its misues of funds it mobilized to fight the COVID-19 pandemic.
According to him, the government succeeded in wasting the money raised to fight COVID-19 only to turn around and blame the pandemic for the country's troubles.

"@MBawumia @NAkufoAddo. You raised GHS21.8b to fight COVID but spent only GHS11.7b on COVID activities.

"You used the remaining GHS10b on "Budget Support"-the euphemism for your wasteful election expenses. Only to turn around to blame COVID for all your failings. Have you no shame?" parts of a tweet by Sammy Gyamfi read.

The NDC's National Communication Officer made these remarks while reacting to an audit report on the government of Ghana's COVID-19 expenditure.

The audit report showed that nearly 50 per cent of the money the state mobilised to mitigate the impact of the COVID-19 pandemic in the country was used for budget support and not issues related to the outbreak.

The report, which was prepared by the Auditor-General's Department, indicated that the government raised nearly GH¢22 billion, as of June 2022, to fight COVID-19 in Ghana through the Contingency Fund, the World Bank Group, the International Monetary Fund (IMF), the African Development Bank (AfDB) and the European Union (EU).
However, out of the total amount raised to fight COVID-19 only about GH¢12 billion (a little over 50 percent of the total funds raised) was used for activities geared toward fighting the spread of the virus and its impact in Ghana.

Read Sammy Gyamfi's tweet plus the full audit report below:


@MBawumia @NAkufoAddo You raised GHS21.8b to fight COVID but spent only GHS11.7b on COVID activities. You used the remaining GHS10b on "Budget Support"-the euphemism for your wasteful election expenses. Only to turn around to blame COVID for all your failings. Have you no shame? pic.twitter.com/l1HBpSOnVc

— Sammy Gyamfi (@SammyGyamfi_) January 22, 2023
IB/BOG