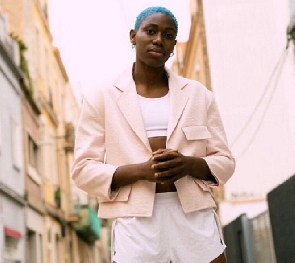 Stylish athletes have a cult following from fans who may not necessarily love the sport they are into.
Often, athletes are loved for their talents and their unique skills but being apt in fashion takes their following to a whole new level.

Athletes are mostly models for the brand they are associated with which tends to increase their interest in entering into fashion and modeling part-time.

Having a unique style as much as athletic skills are increasingly becoming a part of professional athletes.

Here are some 10 most fashionable athletes in the World

Asisat Oshoala(Footballer)

Asisat Oshoala is a Nigerian professional footballer who plays for FC Barcelona.

The five-time African best player has a love for simple but gleaming styles.


Sydney Carter (Basketball)
Sydney Carter is a retired Women's National Basketball Association(WNBA) player.
She is now a coach for Texas A&M Aggies Women's basketball team.

Carter mostly flaunts her sleek style on her social after every game day.


Skylar Diggins(Basketball)
Skylar Diggins-Smith is a professional basketball player who plays for Phoenix Mercury in the Women's National Basketball.
The 32-year-old's turn-up for games is tantamount to appearing on modeling runways. She loves weird styles.
Sam Kerr(Football)
Sam Kerr is a 29-year-old Australian footballer who plays for Chelsea Women. The one-time Professional Footballers Association (PFA) player of the year joined Chelsea in 2020 and has won 8 titles.
Kerr is the skipper for Australia and the all-time top scorer with 61 goals in 116 appearances.
Sam Kerr mostly goes casual off the field but mixes it with formal wear during events.


Naomi Osaka (Tennis)
Naomi Osaka is a professional tennis player. The four-time grand slam winner's strong love for fashion is always on display on and off the court with some eye-pleasing styles.
Lauren James
Lauren James is an English footballer who plays for Chelsea in the Women's Super League.
The former Manchester United attacker is 21 years old. She joined Chelsea in 2021.
Lauren loves casual style, which is a regular for footballers off the pitch.
Alex Morgan (Footballer)
Alex Morgan is a 33-year-old footballer who plays for San Diego Wave FC in the US National Women's Soccer League.

The American is a two-time World Champion and Olympic gold medalist with numerous honors to her name in her 15-year career.

Morgan has a love for sneakers and often loves to keep it causal off the field.


Eileen Gu(Freestyle Skier
Eileen Gu is am American-born freestyle skier.
She is a model and has modeled for many brands and also appeared in magazines.
Bianca Blair Crawford (Wrestling)
Bianca Nicole Blair is a 33-year-old American professional wrestler who performs under the ring name Bianca Belair.
She made her debut in 2016 and is currently the Raw Women's Champion. She is a former track and field athlete.

She has an apt fashion taste and knows what to wear at what time.


Georgia Ellenwood
Georgia Lorraine Ellenwood is a 27-year-old Canadian athlete who competes in combined events.
She loves formal looks.