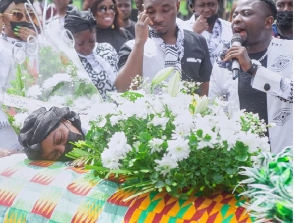 On January 17, 2022, actress and media personality, Afia Schwarzenegger broke the news of her beloved father's death in an Instagram post that attracted hundreds of sympathizers.
A year after the death of Augustine Agyei, her daughter disclosed that life has been unbearable.

According to Afia, she might never get over his late father's death as the void has become impossible to fill.

On Tuesday, she took to social media to publish a photo of herself laying on her father's coffin in remembrance of his first death anniversary.

She wrote: "Dada It's been a year you left me...Am I doing good...Naaa just existing."
Her fans, followers as well as friends have sent prayers and well wishes to her as she mourns her father who used to be her great companion until his demise last year at the age of 83.

Check out the post below:


OPD/BB