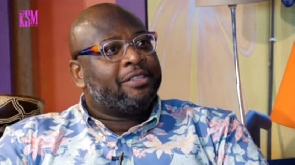 An Executive Board Member of the Ghana Football Association, Randy Abbey has stated that he has no idea Bernard Amofa Jantuah, the bankroller of Berekum Chelsea, is aspiring to become the next GFA president.
Jantuah has gained recognition for his efforts in developing Berekum Chelsea into a prominent team in Ghana, with the club currently holding the 5th position in the ongoing Ghana Premier League season.

With the GFA elections expected to come off later this year, Jantuah has declared his intention to contest in the presidential race.

During an interview with Asempa FM, Randy Abbey, who is also a GFA Executive Council Member, expressed that he has no idea who Jantuah is.

He mentioned that his focus had been on the qualifications of Heart of Lions in the Division One League, which might explain his unfamiliarity with Jantuah.
"I don't know him probably because I was focused on our qualifications [Heart of Lions] in the Division One League. However, it is open to anyone who wishes to contest. But if he is riding on the influence of journalists, then I will advise him to be careful," Randy Abbey said on Asempa FM.

The General Secretary of the GFA, Prosper Harrison Addo, is expected to announce the election roadmap, including the venue.

The fate of football leadership in Ghana will be determined by the electoral college, which consists of 123 members.

JNA/OGB