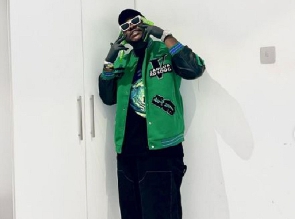 Rapper Medikal has disclosed that he has grown a tough skin from the continuous attacks on social media as well as fake news about his personal life.
According to the award-winning rapper who is slow to respond to cyberbullies, it is better not to give reverence to messages and posts designed to hurt one's feelings.

"Sometimes I rant but nothing changes. Cyberbullying never gets to me. I rather entertain myself with it. I just laugh when I come across such news. When am bored I just type Medikal and read and search what people are saying about me," he disclosed in an interview with media personality, Abeiku Santana.

Also speaking on the widespread of fake news packaged to dent his reputation, Medikal, called out news portals and blogs that fabricate stories about him.

The rapper also narrated how he sometimes laughs over the purported stories sold to readers as the truth.
"Sometimes you just have to ignore such stories. It is very unfortunate that some big blogs in Ghana release fake news, sometimes I wonder. It is unfortunate that you can't really do something about it," he lamented.



OPD/EB