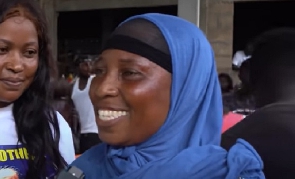 The mother of Ghanaian musician Black Sherif, who recently won the Artist of the Year award at the Vodafone Ghana Music Awards (VGMA), has opened up about her emotional ordeal during the awards night.
Speaking in an interview with Zionfelix on a YouTube Channel, Aisha revealed that she experienced a mix of skepticism and anxiety regarding the outcome, which led to physical discomfort and compelled her to momentarily turn away from the television screen.

According to her, the intense anticipation and uneasiness of the event made her suffer from a stomach upset due to the suspense surrounding the announcement of the Artist of the Year.

She admitted that she was uncertain whether her son would emerge victorious or if another artist would claim the prestigious title. As a result, she temporarily turned away from the TV screen.

"I was feeling uneasy and I even had a stomach upset, so I had to turn away from the TV, but I got hope when Okraku said that 'when a man works hard, God praises him' …then I realized that per such a proverbial statement, the award was going to Sherif.

"So, I got a bit of relief after the proverb…where I stay is not a family house but those around really supported us to make noise, we didn't even sleep that day," she said.
She further expressed her gratitude, she acknowledged the overwhelming support and love shown by the people of Konongo Odumase, their hometown.

"Konongo Odumase people have really shown love."








Watch the latest episode of Nkommo Wo Ho below:





ED/BB