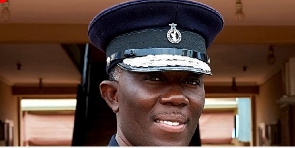 Dr. George Akuffo-Dampare, the Inspector General of the Ghana Police Service, has reacted to death prophesies about him.
The Police chief said he was not afraid of death since every man born on this earth would certainly die.

According to him, no amount of death prophesies would scare him.

The IGP said it remains surprising that nobody prophesied about him when he was working in the service, but such prophesies increased the moment he was appointed IGP.

The IGP made this known on Thursday when he appeared before the Public Accounts Committee of Parliament to answer questions about the police service after the Interior Ministry was invited to come and respond to some infractions spotted against them in the 2020 Auditor General's report.
He told the committee that "honourable chair before I became IGP, nobody prophesied about me. Now I am IGP, and everybody is prophesying about me. I have no problem with that because I am a public figure. But why should it be such that; you found something, God has revealed something to you, and you want to share with me, you have to make it showmanship and share with the whole country that I am about to die?"

"I am not afraid to die because the only thing I am afraid of is birth. If you don't want to die, you shouldn't allow yourself to be birthed. So once I have been born, I am going to die. So as for death, the only thing I can do probably is to become a friend of it so that it can treat me with some leniency.

"But the point is that you do and make such an announcement across the whole world, and I have a wife, and I have children. I have a parent who is alive and have family members. So every day, when I live in my house, and I always get up around 3 am, and today I slept up top 5 am, my wife would be thinking I am dead, and this is something she is going to live with for the rest of her life."