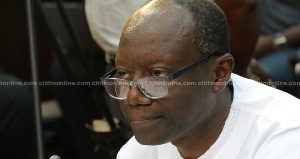 Finance Minister Ken Ofori-Atta has said the government of Ghana will end the deal signed between the previous government and the International Monetary Fund (IMF) in April 2018.
This comment from the Finance Minister is in contrast to some suggestions that the government will reconsider an extension of the extended credit facility programme after the initial April 2018 deadline.

Ghana in 2015 entered into a three-year agreement for $918 million to, among others, restore macroeconomic stability.
Speaking during a press briefing as part of an IMF mission to Ghana for the fund's Article IV consultations with Ghana, he noted: "We are still expecting to end in April which will lead to some very tough decisions with regards to where we want to go with our deficit in the coming budget and how we build up the stock of private sector savings or infusion of investments from outside and be able to project that," he stated.

The chief of the IMF mission, Analisa Fedelino, said on her part: "It is quite normal for an extension… The road to economic reform is bumpy and there is also political change, so certainly affects the programme."