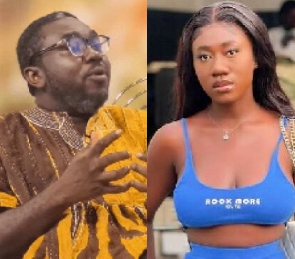 Oliver Barker-Vormawor, a convener for the #FixTheCountry Movement, has expressed worry about the way Ghanaian youth use social media.
Barker-Vormawor, who was reacting to Ghanaian Tweeps, berating TikToker and social media personality, Hajia Bintu, over the kayamata video she shared, said that he is shocked that this will be the focus of the youth in these hard times.

"The things that trend on GH Twitter scare me sometimes. I can't imagine that in the face of economic ruin; of such public debt which mortgages away our collective future, the (elite) youth of Ghana are so fixated on Hajia Bintu and who is peddling for girl's charms. Hmmm!

"Our internet footprints do not reveal the full scope of my generation's industry. It's not our best foot forward!" the post he shared read.

Why Hajia Bintu is being berated on Twitter:
Hajia Bintu on April 12, 2023 was captured in the viral video promoting 'Kayamata' products, a substance mainly used by women to charm men and extort money from their sexual partners.

Testifying the goodness of the so-called powerful product, she explained that any woman who purchases them will automatically be gifted large sums of money by any man she comes in contact with whether through sexual intercourse or just a handshake.

She added that male sponsors or as she puts it 'Papa No' who prove stubborn when asked for money will succumb to a woman who uses the said product.

Bintu listed them as: "Fuck & Stay, Attraction To Rich Men, Love & Pay, Love Me Alone, and Do As I Say."
Social media users including influencers and women have condemned the move by Hajia Bintu who they claim is leading many astray.

She has since apologized, saying that she and her management team were negligent in promoting the particular brand.

Kayamata are potions and herbs believed to have the tendency of nailing a man or woman down after a sexual encounter. Patronizers claim it has saved their relationships and helped them deal with partners who are stingy.

After the use of these products, one's victim is quick to 'do as their partner says'.
View Barker-Vormawor's tweet plus Hajia Bintu's viral video below:



You can also watch some of our programmes below.








IB/OGB