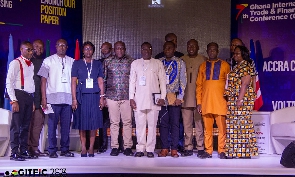 Thu, 8 Jun 2023 Source: GNA
Mr Kenneth Mensah Arthur, Deputy Chief Executive in charge of Services at the Volta River Authority (VRA), has asserted that without reliable and affordable electricity, the potential industrial growth cannot be realized.
"Ghana's industries consume about 33 percent of the electricity produced which is very significant'.

Mr Arthur stated this during the seventh Ghana International Trade and Finance Conference (GITFiC) held at Senchi in the Eastern Region and attracted patrons from over 10 African countries and beyond.

The conference was on the theme: "Sovereign Economic Vulnerabilities; An Endorsement for a Single Trading Currency for Africa – with ECOWAS as a case study.

He said the VRA had over the years continued to increase its generation capacity while improving the reliability of supply, to meet the growing electricity needs of the country.
"VRA expects to obtain competitively priced financing from banks to enable VRA to continue to develop new power plants at competitive prices to meet the growing electricity needs.

"Reliable and affordable electricity also helps to promote regional trade because it helps to give a competitive advantage to counties that exhibit these qualities.

The conference which dwelt on building a single currency for the sub-region also made strides in the intra-African trade to reduce import bills for member countries.

On a single currency for the sub-region, he said the VRA believed that the concept of a single currency was in sync with electricity generation and trading.
"Electricity does not know any boundaries; all it needs is for the two systems to be connected and it flows. The electrons that form the electricity are the same in Ghana, Burkina Faso, Togo, and any other country for that matter. The electrons behave like a single currency, so we appreciate the push for a single currency to promote trading.

On VRA's role in Promoting International Trade, he said since its inception, it had been promoting international trade through electricity exports and also natural gas supply Power Exports.

He said the VRA started exporting power to Cote d'Ivoire in 1984, to Togo/Benin from 1984 and to Burkina Faso from 2003 and now exported about 250 MW to neighboring countries.

With respect to natural gas, he said VRA had been a foundation customer to the West African Gas Pipeline Project (WAGP) which led to the construction of a natural gas pipeline from Nigeria through Togo/Benin to Ghana and VRA's role was a major boost for the realization of the needed volumes of natural gas to make the WAGP project viable.
"Today gas supply from Nigeria plays a critical role in power generation in Ghana".

He said VRA was a pioneer member of the West African Power Pool (WAPP) seeking to promote cross-border trading of electricity within West Africa and played a key role in WAPP, serving on various technical committees, and special task forces to help WAPP in its operations.

"Realization of the full potential of WAPP will improve the reliability of power supply within the sub-region, reduce the overall investment required for additional power plants of countries (because countries can import without building a new power plant), and also increase trading amongst the countries that are in a position to export power.

Mr Arthur said the VRA had maintained High Standards in Power Operations in its hydro, thermal, and Renewable Energy Operations and maintained high availability standards, and adopted best practices, which was a key attraction to neighboring countries for the supply of power.
He said the Energy Transition also presented some opportunities for the power sector and industries and the target of the government of Ghana was to achieve net-zero by 2070.

"This, the government intends to achieve by implementing nuclear power generation, using natural gas, and increasing the Renewable Energy in the generation Mix. We in VRA are partners with GoG in the development of the Nuclear Power Plant. These initiatives we believe also present opportunities to industries in the Renewable Energy space".

Mr Arthur said the VRA supplied over 50 percent of the country's electricity with 87 percent penetration and hoped to achieve Universal access by 2030

On Generation Mix for 2022, he said Hydro was 36.8 percent, Thermal: 62.9 percent, Solar: 0.1 percent, and Imports amounted to 0.2 percent.
Source: GNA