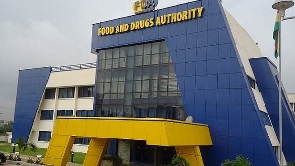 The Food and Drugs Authority (FDA) has urged the public to inspect street food vending permit stickers at various food joints when they buy cooked meals.
This, according to the FDA, will ensure consumers are taking in food that is wholesome, even when it is prepared or sold on the street.

According to the Public Relations Officer at the Food and Drugs Authority, Rhoda Appiah some of these food vendors do not operate under proper sanitary conditions required by the FDA, hence the directive.

In its quest to ensure that food vendors are operating under the standards required by the FDA, the authority has directed all street food vendors and retailers of soft drinks and water to walk to the nearest municipal or district assembly for their street food vending permits.

This will help the FDA regulate their way of operating, with a focus on how they cook, the environment in which they prepare the meals, the equipment they use, water, ingredients, and even the hygienic conditions of their workers.

People will remember that the FDA recently shut down the Yellow Sisi Waakye restaurant in Oyibi after one person died and 40 other people were taken to the hospital with what might have been food poisoning.
According to the FDA, an environmental assessment of the food preparation site located at Malejor and the three vending sites at Bush Canteen, Prison Joint, and Sharp Curve Joint revealed poor food handling practices that could have resulted in the contamination of the food, leading to the foodborne disease outbreak.

Speaking on Atinka TV's morning show, Ghana Nie, Mrs. Rhoda Appiah said the FDA did not want what happened to repeat itself, hence the advice.

She noted that it could be very dangerous to buy from food vendors without the FDA stickers.

"We are not saying this to scare you, but when you go to a food vendor and she does not have the sticker, you need to be very careful because, for all you know, the vendor has decay in their fingernails and you will be eating their food." But when you see the stickers on their table or on their carrier, then you are assured that the person has been verified and approved by the FDA before she prepared the meal for you. "We want people to understand that if the sticker is not there, then it is very dangerous," she said.