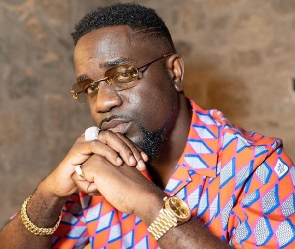 Sarkodie (Sark) has informed King Promise (KP) that he always knew he would be a music star.
In a video circulating on social media, sighted by Class News' Prince Benjamin, Sark and KP were spotted at the barber's. The former was having his hair trimmed.

Slapping Sarkodie on the shoulder, affectionately, KP declared: "...has covered me, this man.

"Today, we're in London. You know, the headline. It's amazing, man."

He asked Sarkodie: "How do you feel?"

The rap superstar's quick response was: "Beautiful times."

"How do you feel? You put me on, and today, I'm out here," 5Star signee King Promise asked.
"Listen, not to brag, but I saw this happening," Sarkodie assured.

"Is it?" KP quizzed.

"Of course," Sarkodie answered.

"That's crazy, man" the '10 Toes' hitmaker remarked.

"You were never far from this," Sarkodie, alias Landlord, reacted.

On March 6, 2023, at the packed Here at Outernet hall, London, United Kingdom, for the Sarkodie x The Composers & Friends Ghana 66th Independence Concert, KP paid respects to Sarkodie again before a cheering audience.
"There's King Promise only because there was Sarkodie.

"He believed in me from the start when nobody knew my name. I was some boy in Nungua and God used him [to help me].

"So I want to say God bless you.

"Fast forward, 5 years later, we're in London... Bro, this [thing] is crazy," he said.

The two Ghanaian music makers have hit collaborations such as; 'Double Trouble', 'Can't Let You Go', 'CCTV', 'Anadwo' and 'Labadi'.