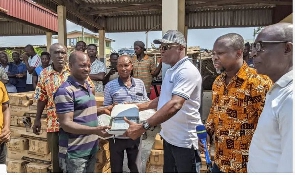 Sun, 5 Feb 2023 Source: GNA
The Sekondi Takoradi Metropolitan Assembly will establish a Police Post at the Kokompe Industrial enclave to control crime and maintain law and order.
In recent times, according to the Metropolitan Chief Executive, Abdul Issah Mumin, the area had witnessed a surge in crime and other nefarious attitudes making life and living in that zone, a challenging experience.

The Assembly, as a first sign of commitment to combat crime in the area, has distributed 120 streetlights to the various sectional heads among the artisans to be placed in designated areas within the enclave to lighten up the area.

Another matter of concern was the growth in the "Sodom and Gomorrah" business which according to the MCE was also fuelling crime in that area.

He said the Assembly, would initiate a process of demolition exercise of unauthorised structures housing such miscreants in the area.

Mumin said: "We have been made aware of how intruders are making lives unbearable here…and as an assembly, we are also prepared to beef up security to ensure that businesses operate in a peaceful environment."
Justin Joe Ayittey, the Regional Chairman of the Garages Association said the activities of intruders and thieves in the area were making the cost of doing business a hard one.

He queried: "How can I charge small money and later buy an item to the tune of 1000 plus because someone had come to steal it?"

He was therefore excited about the police post and prayed that it would be established on time to curb stealing in the area.

Ayittey added that the Association was prepared to help in identifying all unauthorised structures which had become a haven for criminal activities.

Nana Asempanaye, the Director of the Takoradi SubMetro encouraged owners of businesses in the area to promptly pay their tolls and fees to enable the assembly to also meet their needs.
Source: GNA