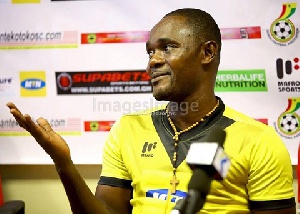 Editor of Kotoko Express, Jerome Otchere, believes fans of the club should throw their weight behind stop gap coach Godwin Attram as he handles the team after Zdravko Logarusic's sack.
The former Kotoko captain has risen through the ranks at the club moving from Team Manager, Assistant coach and now interim coach.

Ahead of a tough run of fixtures which will see Kotoko face Wa All Stars and Aduana Stars in quick succession, Jerome is preaching for total support to ensure the club return to winning ways.

"The supporters have not been happy with the performance of the team in recent weeks and after the match supporters came to the dressing room and their attitude was not pleasant," he told Asempa Sports.
"With the agitations of the supporters, sometimes you need to stay back and grant them their wish but time will vindicate whether the decision to sack Zdravko Logarusic was the best."

"It is a big issue for the club and even more arduous for Godwin Ablordey who has been tasked to play beautiful football. It will not be easy but we will give him the best of support he needs to succeed.

Ablordey first game is away to Wa All Stars.